When choosing derma roller sizes for your skin problems, it is very important to know the functions of each size in dermarolling. Proper use of recommended derma roller size when using it as a home treatment is very vital. Dermarolling is getting more and more popular nowadays because of its effectiveness and proven results. When the famous celebrities posted in their Instagram or even mentioned in their interviews their praises for this wonderful treatment, their fans all over the world can't wait to try using the derma rollers.        
A derma roller is a beauty device full of microneedles ranging from 200 up to 1200 (or more). Following a technique, you roll it onto your skin's surface with gentle pressures. When these microneedles prick the skin, they create small wounds or punctures that allow skin regeneration and collagen formation. With regular dermarolling, a damaged skin can recover because of the continuous promotion of collagen and elastin. Collagen keeps the skin beautiful and supple while elastin makes the skin firm and stronger. When you want to treat skin problems -like acne scarring, fine lines and wrinkles, dark spots or age spots, or anything that shows signs of ageing- using the best derma roller sizes for your treatment will not disappoint you.
Types of Derma Roller Sizes

There are different lengths of derma roller microneedles. Each size has its significance when treating skin problems. Enumerated and explained below, you can look into each size and decide what's best for you:
Size 0.2 – 0.3mm Microneedles Derma Roller
They are the smallest size of derma rollers which are very good for transdermal absorption. It means that, using this derma roller size can effectively enhance the absorption of skin products. It does not stimulate growth collagen but instead, it makes the skin receptive to skincare products because it thickens the skin's surface or epidermis.
Primarily, they are used in delicate areas like around the eyes and neck. This doesn't cause any pain at all and can be used every other day. This is safe for home use and can be an integral part of your skin care regimen and routine.
Size 0.5mm Microneedles Derma Roller
This is the best derma roller size that can be used at home. The most commonly used by many, a derma roller size of 0.5mm microneedles can effectively solve the following skin problems of mild cases:
Hyperpigmentation

Shallow Acne Scars

Skin Discoloration

Age Spots

Fine Lines and Wrinkles

Crow's Feet

Loose/Sagging Skin

Hair Loss

Stretch Marks

Cellulites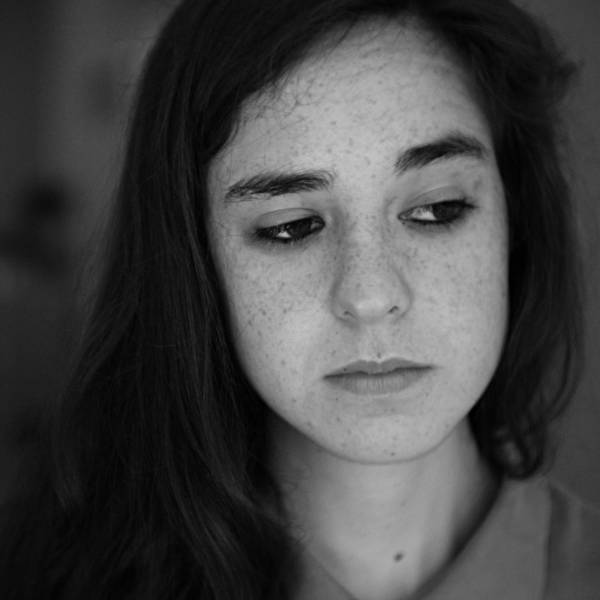 The 0.5mm size can be used twice to thrice a week with proper caution. Using this microneedle size will promote collagen production so you get smoother skin and improved appearance. This is a very good treatment routine if you are following a skin care regimen by using serums and anti-ageing products. The absorption of these creams and essences will be enhanced because every time you dermaroll, it opens up skin channels that would allow the skin products to go deeply. In terms of pain level, this size is tolerable for many but if you are a person with a very low pain tolerance, it can sting a bit once the needles are pricked onto the skin. You can take this guide below if you're interested or have been using this derma roller size.
Tuesday- 0.5 mm derma roller
Wednesday- 0.5 mm derma roller
Thursday- 0.5 mm derma roller
Friday- 0.5 mm derma roller
Saturday- 0.5 mm derma roller
Sunday- 1.0 mm derma roller (optional)
Size 1.0mm Microneedles Derma Roller
A size of 1.0mm derma roller is effective when you want to see a more refined skin's texture. This is as good as having a skin resurfacing treatment. Furthermore, they are effective in inducing the body's collagen production to treat some deep acne scarring if used regularly. If you are looking to treat the same skin problems mentioned above in size 0.5mm but with moderate cases, this is the right microneedle size you can safely use at home. However, the frequency of use is just limited to once every two weeks.
You can experience some pain due to the deeper penetration of needles and a numbing cream is needed for people who are highly sensitive and less tolerant to pain. In terms of recovery, it depends on the individual's skin sensitivity. These derma roller microneedles can be used comfortably on the cheeks, forehead, and the lower neck, as long as you don't roll it in a forceful way. It is not recommended to be used near the eye areas.
Size 1.5mm- 2.00mm Microneedles Derma Roller
These microneedle sizes are effectively used to treat skin problems that have become stubborn and left untreated for a long time. For example, if you gave birth to more than 3 children and your stretch marks look severer than when you first had it, this will work for you. However, this is not recommended for first time users, or even if you have been regularly dermarolling, you should consult your dermatologist if you want to use this at home. It can be used in your hands, arms, thighs, tummy, and décolleté areas for the treatment of severe:
Wrinkles

Stretch marks

Sagging or loose skin

Deep scars
Expect that there is medium or high pain when using it in every treatment. This is not safe for home use and you should seek the help of a trained professional so that any pain can be eased and other skin concerns can be addressed right away during treatment. There is a longer recovery time compared to almost no-downtime when using this size of derma roller and they can only be used every 6 weeks.
Size 3.00mm Microneedles Derma Roller
This is the longest size of microneedles which are NOT safe for home use. They are only to be administered by a trained professional because of its risks and dangers. It is not even for facial use due to the damage it can bring to the delicate and soft areas of the face. It is only used for hardened areas like thighs, feet, arms, lower and upper back, butts, and the back of the hands. This is used to treat the following:
Severe burn scars

Stretch marks

Cellulites

Other severe scars on skin
The patient will not tolerate the pain so an anaesthetic is given before the procedure is done. Needles as long as this will produce light bleeding, swelling, reddening or even dryness of the skin. Minimal recovery is 7 days and should totally heal within 10 days. The dermatologist can then decide when to have the next treatment but usually, it is repeated after 2 months.
Risks of Using Long Derma Roller Sizes
While longer microneedles are more effective in inducing collagen, it is NEVER safe to use anything longer than 1.5mm at home. Here's why:
1. Bleeding can happen. Deeper penetration caused by long derma roller sizes can cause bleeding. Since the needles open up channels, your skin is even more receptive to infections and allergic reactions. This can create trauma to skin and might result to bigger problems.
2. It is only done by professionals.  People who go to spa or derma clinics for derma roller treatments are well examined whether they can go for longer derma roller sizes. Only those who are trained in dermarolling can administer the use of 1.5mm and above derma rollers.
3. It is not painless. Derma rollers with long microneedle sizes can be painful even if you have high tolerance in pain. A trained professional or a dermatologist can properly address this pain you might feel while derma rolling.
How to Take Care of Your Derma Roller

Do not expose your Derma Roller in germs by leaving it in open spaces where it can be contaminated. Always make sure you put it back in its storage or container box AFTER using. Never soak your derma roller in a boiling water to avoid breaking and damaging the needles. Do not use a tissue when wiping it because the fibers may get into each microneedle. Just allow it to air dry.
How to Use the Derma Roller

We recommend this technique every time you do the dermarolling:
1. Sanitize and clean your derma roller. You must sanitize your derma roller by soaking it for 5-10minutes using a disinfectant alcohol. Clean the handles by wiping them using a wet cloth with an alcohol.
2. Make small sections. Before you start dermarolling, divide the area into small sections of about a quarter of your palm size. It is always recommended to derma roll section by section to fully cover the desired area to be treated.
3. Use the 4-direction technique. For each section, complete dermarolling in 4 different directions as shown in the diagram below. Then, derma roll up and down 4 times, followed by left and right 4 times, followed by diagonally top right to bottom left 4 times and lastly diagonally top left to bottom right 4 times. After that, you can move on to another section and do the same steps.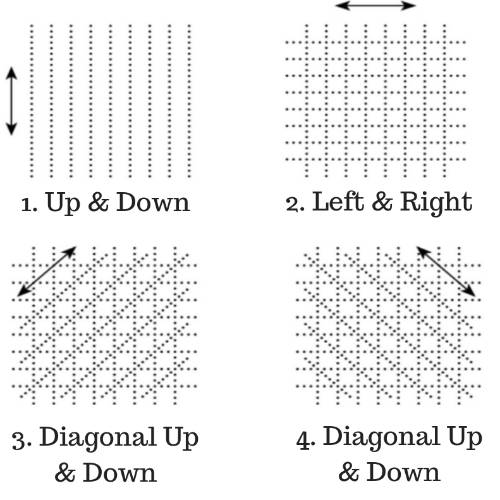 4. Sanitize AGAIN and clean your derma roller. You must sanitize your derma roller by soaking it for 5-10minutes using a disinfectant alcohol, let it air dry, and keep in the storage box.
How to Choose the Right Derma Roller Sizes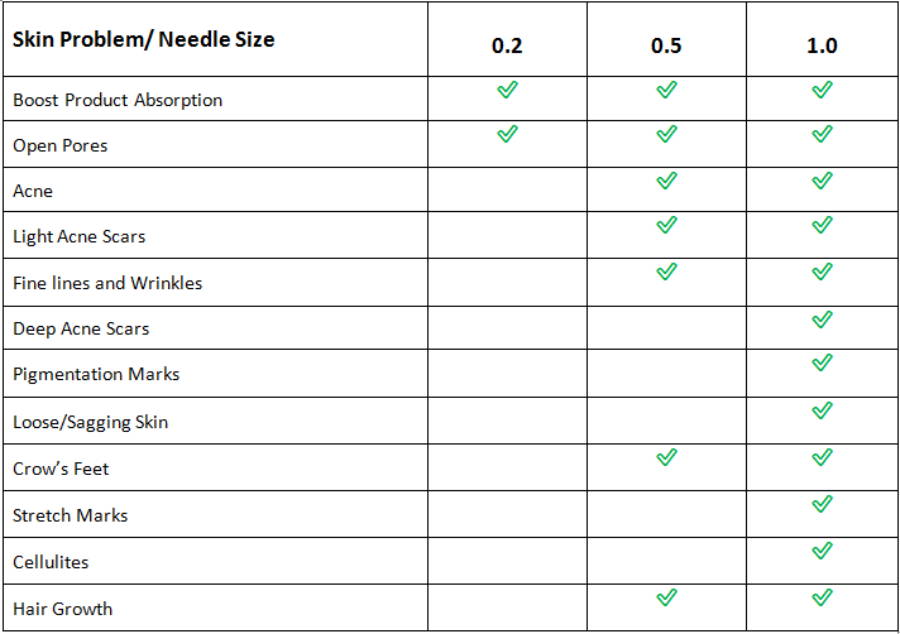 Important Reminder: Before using microneedles longer than 2.0 mm, please consult your dermatologist first.
 
DO's and DONT's When Dermarolling

These are important reminders you should not ignore when using this treatment along with the best derma roller size for your skin condition.
Things to do:
Cleanse your face and hands. Wash your face with gentle cleansers and refrain from scrubbing or exfoliating before the treatment. Rub some alcohol into your hands and even the handles of your derma roller to ensure you are not transferring germs into your skin that can cause infection.
Roll gently. Avoid pressing the derma roller too hard on your skin. Use the same pressure for all parts and take some 30-second pause before working on another section.
Moisturize and Hydrate. It is best to put a serum, moisturizer or calming cream after you derma roll. It boosts the absorption of your skin care products so it becomes more potent as it penetrates into the deep layers of your skin. (If you need guides about choosing the best derma roller serum, click here.)
Replace your derma rollers after 4-5 uses. For better results, change your derma rollers frequently because they have a short life span. This will avoid infection and contamination to skin.
Apply numbing cream (optional). A microneedle with a length of above 1.0 mm leaves pinpoint bleeding when they touch the dermis and can cause discomfort. If you have a low pain tolerance, you can use a numbing cream. Follow carefully all the instructions in the product insert.
Things NOT to do:
No over-rolling. You do not need to repeat rolling after the first round as soon as you finish the whole area to be treated. When you roll aggressively and too much, the collagen can be broken down instead of forming and regenerating new tissues.
Do not share your derma roller. One user, one derma roller. To avoid infection, never share it with anyone.
No dermarolling on active breakouts. You must avoid big, inflamed, and painful cysts. Allow it to heal before you do this treatment.
Do not dermaroll more than the recommended frequency. You cannot rush the results you desire to get by doing it frequently. Microneedles with 0.5mm size and above cannot be used every day.
Do not use broken microneedles. Discard your derma roller if you see rusts, bended or broken microneedles.
Guide in Choosing the Best Derma Roller

When choosing the best derma roller, it is important to pick one with a high quality. There are so many cheap derma rollers that are being sold in the market and if you buy something with poor quality, it can do more harm than good. Your skin might get damaged and you might even spend more in fixing that damage. Choose a derma roller that is specifically designed for use on problem areas. Look for one that has a cover to protect it from getting contaminated.
If you are looking for a set of derma rollers, you can trust that our Advanced Dermaroller System, REJUVISS, will make wonders to your problematic skin. It is a complete set that comes with 4 different roller heads that you can use for your face and body. It is made of high quality microneedles, yet affordable, and designed for each targeted areas:
12 Microneedles (1.00 mm) - to be used on face to reduce all kinds of scars. This is best for acne scars and treatment of deep stubborn scars.
240 Microneedles (0.5mm)- designed to be used for hard to reach areas such as on the eyes to reduce fine lines and crow's feet
600 Microneedles (0.5mm) – used for the whole face area such as cheeks, chin, forehead or neck for the treatment of fine lines, wrinkles, scars, and skin discolorations and pigmentations
1200 Microneedles (0.5mm)- for body use to treat skin problems like stretch marks, reduce cellulites, and lighten skin pigmentations